ANTI-WRINKLE TREATMENTS
WHAT ARE ANTI-WRINKLE
TREATMENTS?
OVER TIME, OUR SKIN LOSES ITS' NATURAL ABILITY TO BOUNCE BACK LIKE IT USED TO.
The once organic production of collagen and elastin lessens, and eventually, deep dynamic lines leave a lasting impression on our skin. Anti-wrinkle treatments work to protect your skin from visible creases caused by repeated motion and muscle contractions.
Anti-wrinkle treatments can be categorised as a non-surgical procedure. Armed with an innovative formula, our specialists carefully intercept the signals of age beneath the surface of the skin, alleviating any unnecessary stress.
Our doctors are highly trained in the art and science of cosmetic beauty and work with your genetic make-up to carefully tailor a treatment plan that is unique to you.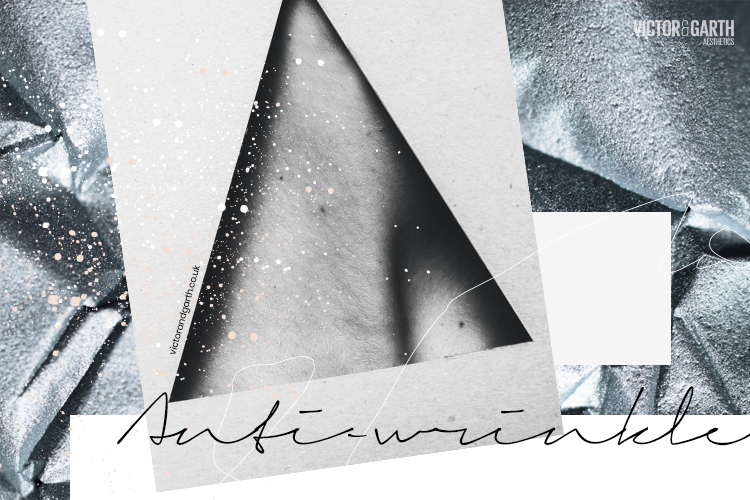 AM I SUITABLE FOR ANTI-WRINKLE TREATMENTS?
During your consultation, we will identify your skin goals.  This will enable us to determine the most appropriate treatment plan. Anti-wrinkle treatments may be suggested if you wish to improve the appearance of the following:
Fine lines & wrinkles on movement
A bespoke treatment plan will be devised according to your desired treatment outcomes. It may be that this is not the right time for you to undergo anti-wrinkle treatment and alternative treatments will be suggested (including no treatment).

WHAT PRE-TREATMENT PREP IS REQUIRED?
At your initial consultation we will advise on a skincare regime in keeping with your current skin goals. As there is minimal discomfort, topical local anaesthetic cream is not usually required prior to treatment.

WHAT DOES THE TREATMENT INVOLVE?
Following initial assessment to check suitability for the treatment, your face will be strategically mapped. A small number of tiny injections of a purified protein are carefully placed in the chosen treatment area(s).  The aim is to relax targeted facial and/or neck muscles, which will temporarily soften expressive lines & wrinkles. The procedure is simple and quick with minimal discomfort.

IS THERE ANY DOWNTIME?
There is minimal downtime following anti-wrinkle treatment. Immediately afterwards, the treated area may appear a little red with slight swelling. This may last for up to 30 minutes. Bruising, although uncommon, may be noticeable following treatment. We will go through post-treatment advice with you during your consultation.

WHEN CAN I EXPECT TO SEE RESULTS?
Within two weeks, you should notice a reduction in your wrinkles, leaving you with a smooth appearance. If you who have been having regular anti-wrinkle treatments, the onset can be noticed much sooner. These treatments are temporary, with effects lasting approximately three to four months. With time, if you have been having regular anti-wrinkle treatments, you may find that the duration between sessions lengthens.
WHAT AREAS CAN BE TREATED?
There are a number of cosmetic and medical indications for anti-wrinkle treatments. Here at Victor & Garth we offer the following treatments:
Forehead – Reduce horizontal lines
Frown – Reduce vertical lines between eyebrows
Eyes – Alleviate fine lines around the eyes, commonly known as, 'crows feet' or 'smile lines'
Nose – Erase fine diagonal lines on the bridge of your nose otherwise referred to as 'bunny lines'
Brow – Straighten out uneven or asymmetrical brows, increasing symmetry or a opt for a simple brow lift
Peri-oral – Treat vertical lines that appear around your lips
Jawline – A popular treatment for bruxism/ teeth grinding, which works by relaxing the masseter muscle. Soften your look or restore definition by reshaping the lower jaw area.
Gummy smile – Relax the elevation of your upper lip to reveal less of your gums when smiling
Chin – Smooth the line between the bottom lip and the chin arch
Neck – Soften platysmal neck bands
Underarms – Effective for excessive underarm sweating/ hyperhidrosis
DO YOU OFFER A REVIEW?
We offer a complimentary review at two weeks post initial treatment. We are unable to accommodate any requests after this time. You will be reviewed by one of our doctors (Dr Lauren and/or Dr Miriam). Although this follow-up may not be with the doctor who performed your initial treatment, your case would have been discussed beforehand. During this review, the doctor will assess your results; If deemed necessary, further anti-wrinkle treatment can be administered.
WHY HAVE ANTI-WRINKLE TREATMENTS AT VICTOR & GARTH?
Our doctors have been performing anti-wrinkle treatments for just under 10 years. It is one of our staple treatments at Victor & Garth. We follow a holistic approach; our aim is to add subtle enhancements to your unique features and emphasise the very best of you.  We advocate a natural yet noticeable approach when treating our patients. That means you will still be able to make facial expressions and most importantly still look like you. It is likely that throughout your journey at Victor & Garth, you will meet both Dr Lauren, Dr Miriam and Laura our PA. If you are a new patient, we look forward to meeting you and to our existing patients, we look forward to welcoming you back to the clinic. 


© Victor & Garth Ltd. Company number 09119695 - All Rights Reserved.
Registered Address: Unit 6, 188 Shoreditch High Street, London, England, E1 6HU